钨铜合金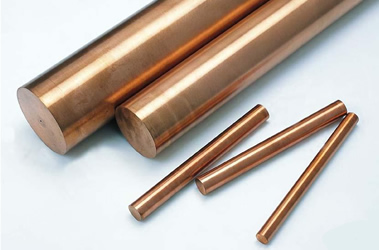 产品介绍:
Tungsten copper alloy is consisting of tungsten and copper, copper content of 10% to 50%. made of powder metallurgy alloy. It has good electrical and thermal conductivity, good high temperature strength and a certain plasticity. At high temperatures, such as above 3000 ℃. The copper alloy is liquid evaporates,absorbs heat, reducing the surface temperature. Therefore, these materials are also known as metallic sweat material.
Tungsten copper alloy have a wide purpose, mainly used to manufacture anti-arc ablation of high-voltage electrical switch contacts and the rocket nozzle throat insert, rudder and other high temperature components, and also used for EDM electrode, high temperature moldsand other thermal conductivity and high temperature performance required to usethe occasion. Fine selection of tungsten copper tungsten, copper powder, refine dart soak sintering process, can withstand the high stress of nearly 2,000 high moderate, high melting point, high hardness, anti-burning and good anti-adhesion, electrical erosion product surface finish high, high precision, low loss.
Tungsten copper is widely used as high-pressure, super-hydraulicswitch and circuit breaker contact, protection ring for electric upsetting anvil block of material, conductive Tsui automatic submerged arc welding, plasma cutting nozzles, welding machines, welding head for welding , roll welding wheels,electrode and the point of sealing gas Mao spark electrodes, spot welding, butt welding materials.
Main Specifications of W-Cu Composite
Type

Density
g/cm3

Conductivity
%IACS

HB
MPa

Size
mm

WCu50

11.9~12.3

≥55

1130~1180

Tube: Ø3~390
Length<500
Sheet:
Width<390
Length<500
Special type:
Width<390
Length<500

WCu40

12.8~13.0

≥47

≥1375

WCu30

13.8~14.4

≥42

≥1720

WCu20

15.2~15.6

≥34

≥2160

WCu10

16.8~17.2

≥27

≥2550

WCu7

17.3~17.8

≥26

≥2900